Towards a more consistent and logical UI in iPhoto 6
Paul Smith - Apple iphoto apps engineering team
iPhoto UI and Usability Round Table - Oct 13, 2006
Problem: New Projects are not uniformly grouped or accessible in the UI.
Users cannot easily see what this app can do.
The discovery of iPhoto's fundamental Utility is only accomplished by digging through multiple menus with limited feedback.
Several projects like "Export to Quicktime Slideshow" and "Webpage gallery creation" are not listed and do not save in the recent items list on the left column.
The current order of the New Project items (from the "+" icon menu) is:

Album
* Smart Album (probably could be an option when you click Album)
Book
Calendar
Card
Slideshow

This makes sense as a sum-up of all the content creation tools, in a logical order and, coincidentally in alphabetical order.

However, only 4 of these are on the task bar, and in a different order :
Slideshow, Card, Calendar, Book, (leaves out Album / Smart Album).
And these 4 aren't in any of the top level menus.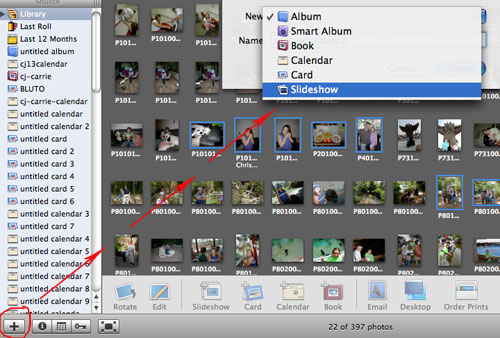 Album and Smart Album are in the File Menu above (and not below). Clicking on File > Album gives you Album in the same drop-down menu brought up with the "+" menu.

Maybe there should be a "New Project" menu on top with all of the New Project items.

Or, add Book, Calendar, Card, Slideshow to File Menu (as its own Project group) where there is only "Album" and "Smart Album" now.

And, someone probably needs to decide on a consistent ordering, especially when they appear in more than one place.

Or, things should only appear in one place, logically grouped and very easy to find.

------------------------------------------------------------------------------------------
Also, "Share a Slideshow over the Web" can be accessed but, only by going to:
View > Show in Toolbar > .Mac Slides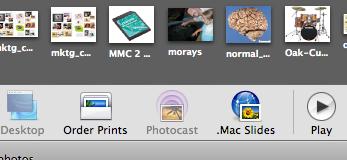 One more thing,
In Share, there are links to photocast, email, and share to web, plus send to and open iWeb, iDVD, and .Mac but, I don't see a link to Garageband and podcast tools. Maybe that's on the way?

-----------------------------------------------------------------------------

Problems: some of the features are "hidden" either by making them only available with hot keys or burying too deep in menu structure and/or linked from non-intuitive icons

A couple of particularly useful ones that could be made easier to find are:

Mirror Images in Books, Cards, or Calendars
Sometimes photos look better in a particular context when "flipped" horizontally... e.g., have your two kids face each other on a two up photo page. It seems few people know about the contextual menu option that allows you to do this easily. Simply cntrl+click on a photo in a book, card, or calendar and select "Mirror Image."

Mixing Card Backgrounds
By default, when you select the background color for the outside of a greeting card, the inside changes automatically as well. Generally, this may be exactly what you want to do. However, what if you want to mix the colors on the inside and outside (for example an orange texture on the outside with a nice soft cream on the inside)? Fortunately, it's an easy thing to do. Just hold down the option key when selecting a background and the change will only effect the side of the card you currently have selected.
---------------------------------------------

Also, Text options are limited within iPhoto (limited choices under the cogwheel icon "Settings") but, you can edit Rich Text Format in Text Edit or Word, cut and then paste into iPhoto text areas. You may also access the TextEdit font options by option clicking any selected text.
---------------------------------------------

Problem: Re keywords - non-intuitive multiple locations (key icon, View, iPhoto > Preferences) and functions:

Keywords can be assigned (not in this pictured menu) and used to find groups of photos (View by Keyword);
The Search by keyword list (It only says "Keywords" and the + icon here Does Not add new keywords) may be viewed by clicking bottom left corner key icon.
Words may be assigned to photos by dragging the photo onto the keyword on this Search by Keyword list: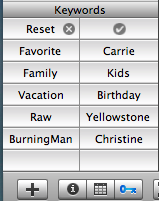 Adding new keywords is not available through this Search by Keyword list (brought up by clicking the Key icon).
It's accessed (along with delete, renaming, and match all or any) by looking in iPhoto menu; iPhoto > Preferences > Keywords: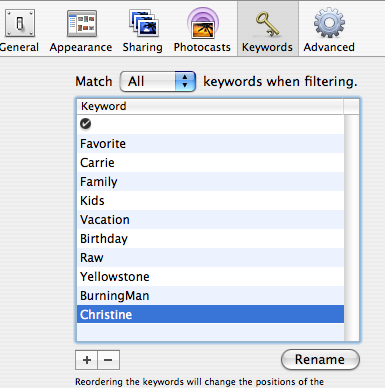 Automatic generation of keywords from the jpg, tiff, etc header, xmp, and IPTC info would be a nice feature to add. Sorting by roll, date, and keywords almost gets you there but, porting the camera info to keywords for sorting would also be a nice option.
---------------------------------------------

Problem: Some Icons are misleading

In Book, Card, Calendar creation mode, the icon for changing the default font and text fields is the cogwheel "Settings":
Pasted Graphic.tiff ¨

I believe that any group of users would understand better the traditional A or T icons:

Which of these says best (or not), "edit your Font Styles"?



Probably not the gear but, that's what we have now.

On the bottom left corner of the app:
The "i" icon gives info about photos; the "cal" icon is "search by photo's date"; the key is "search by photo keywords"

So, most users, seeing these and the browser full of photos might think that the + icon would mean,
"Add / import new photos". Not the case.
It actually brings up the "New" projects menu - Album Smart Album Book Calendar Card Slideshow





------------------------------------------------------------
Increase Usability
Learnability: How easy is it for users to accomplish basic tasks the first time they encounter the design?

Efficiency: Once users have learned the design, how quickly can they perform tasks?

Satisfaction: How pleasant is it to use the design?
Needed: More User testing !
------------------------------------------------------------

Thanks, Paul Smith
iphoto apps engineering team